​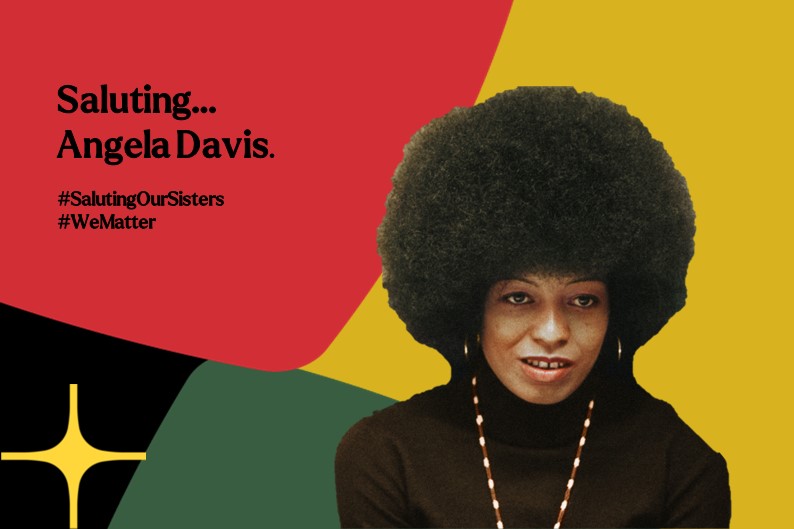 ​
As part of our Black History Month celebrations, Maja Kosmowska, Researcher, salutes Angela Davis, a revolutionary voice for social justice.
When we are taught about the faces behind the civil rights movement, the names Martin Luther King Jr, Malcolm X or Huey P. Newton seem to garner the most recognition, but what about many of the queer black women that fought just as tirelessly against racial, gender and class oppression? Activist, academic, philosopher and revolutionary; Angela Yvonne Davis is one such example of a name which receives far less recognition than is deserved for her unwavering commitment to social justice.
Maja Kosmowska, Researcher:
Like many before her, Davis faced significant backlash and controversy during her fight against oppression. In 1969, she was fired from her assistant professor of philosophy position by the UCLA Board of Regents on the basis of her political beliefs (namely, her membership to the Communist Party USA) – although Davis won the court case against this decision, her reinstatement was short-lived as she was fired once again for "inflammatory language" used in her speeches. In 1970, her 'involvement' in the campaign to free the Soledad Brothers led to her being charged with murder, kidnapping, and criminal conspiracy and Davis was held in jail for over a year before finally being acquitted of all charges after her arrest sparked an international movement for her release.
Davis is most known for her commentary on the prison system, capitalism, LGBTQ+ rights, systematic racism, and intersectional feminism, all of which have had a profound impact on both the academic and political world, as well as my own journey to understanding my political identity.
All throughout her activism, many have attempted to condemn Davis as a polarising figure in order to silence her revolutionary teachings, her refusal to back down instead marked her as a symbol of resistance and perseverance. Ultimately, while she may not be as regularly discussed as other civil rights leaders, her impact on the lives of queer, black, and female communities is undeniable.
This month, I choose to salute Davis for her unwavering and unapologetic commitment to social justice, her perseverance in uprooting the status quo in the face of blatant racism and misogyny, and perhaps most importantly, because she serves as a reminder that the fight for justice and equality never ends.
Her commitment to social justice was finally rewarded when she was named 'Women of the Year' in 1971, and she has continued to address socio-political issues, authored many more books, and inspired new generations to stand up for what they believe in and amplify the voices of the most marginalised in society. If you're looking for some new reading material, I would highly recommend "Women, Race & Class" by Angela Y. Davis, it is essential for all those interested in intersectional feminism, as well as leftist political theory more generally.