​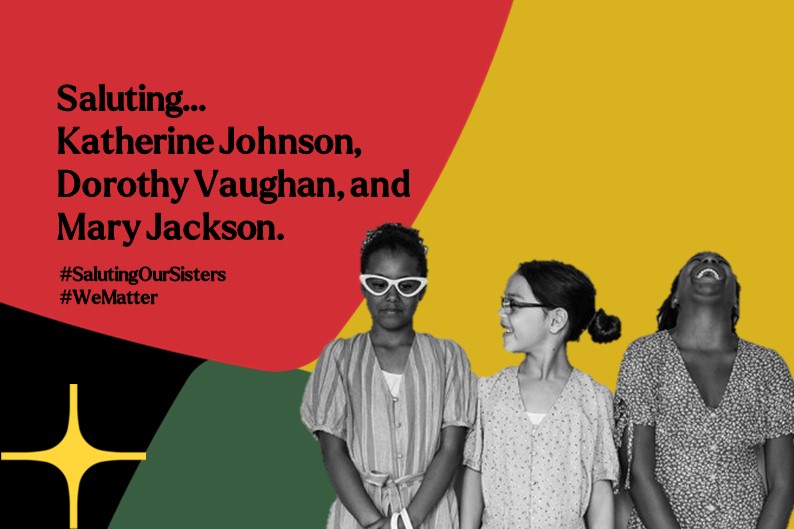 ​
As part of our Black History Month celebrations, Rachael Yates, Chief of Staff, salutes Katherine Johnson, Dorothy Vaughan, and Mary Jackson, whose work drew a path for future generations of women at NASA.
Three remarkable women who were responsible for supporting and calculating complex maths equations for NASA flights, playing a significant role in the Space Race as scientist, supervisor, and engineer. Their story has recently been brought to light by Margot Lee Shetterly's book Hidden Figures: The Untold Story of the African American Women Who Helped Win the Space Race, which in 2016 was turned into an Oscar nominated film.
Rachael Yates, Chief of Staff:
Black History Month's theme "Celebrating Our Sisters" has led me to revisit 'Hidden Figures', a book (and now a film) that beautifully brings to the fore the stories of three African American women: Katherine Johnson, Dorothy Vaughan, and Mary Jackson.
All three women grew up in a society laden with gender and racial biases. From young ages, Katherine, Dorothy, and Mary exhibited a keen aptitude for learning, navigating societal norms that often hindered them. Their paths, marred by challenges, paved the way to NASA, showcasing their resilience and passion for STEM, a field not historically welcoming to women of colour.
Katherine's meticulous calculations were instrumental for Project Mercury and Apollo 11's moon landing. Dorothy, with her prowess in Fortran, was pivotal in transitioning NASA from human computers to electronic ones. Mary, with her expertise on wind tunnels and data analysis, significantly improved the quality of U.S. aircrafts. Their technical feats were immense, but equally significant were the societal challenges they overcame in a racially-segregated, male-dominated setting.
Their indelible mark on NASA is clear, but their wider legacy is in the doors they opened for future generations in STEM. They broke barriers, illustrating that talent knows no gender or racial boundaries.
I loved that the film was so widely viewed and underscored the often overlooked heroes in STEM, igniting global conversations about the unsung trailblazers in our midst and the narratives absent from our history books. We need this to continue.
Diverse representation in STEM and medicine is not just a matter of equity; it's a necessity for progress. Varied perspectives lead to innovative solutions and novel approaches to complex problems. Before joining Cadence Partners, I was a clinician, and then a clinical tutor. During that time, I witnessed first-hand how cultural competence and diverse teams can save lives. A healthcare team from diverse backgrounds can offer a wider array of solutions, ensuring patient care is holistic and culturally sensitive. Similarly, in STEM, diversity propels us towards uncharted territories, making breakthroughs possible.
On a personal note, being married to a wonderful dual heritage woman, such narratives are not mere stories for me; they're mirrors reflecting the world we hope for our daughter — one where her potential is limitless.
In celebrating these stories, I want to acknowledge the contributions of countless Black women who have shaped the fields of science, technology, engineering and medicine. They remind us that progress is built on diverse voices coming together, challenging the status quo, and pushing boundaries.